Newsletter
The veterinarians and staff at the Progressive Animal Wellness are pleased to provide you with an online newsletter. This fun and fact-filled newsletter is updated on a regular basis.
Included in the newsletter are articles pertaining to pet care, information on our animal hospital, as well as news on the latest trends and discoveries in veterinary medicine.
Please enjoy the newsletter!
Current Newsletter Topics
May is National Chip Your Pet Month: Is Your Pet Protected?
Each year, millions of dogs and cats are lost. In fact, this disaster strikes nearly one-third of all pet-owning families. Of the millions of cats and dogs that are lost, only 10 percent are ever identified and returned to their owners. More pets lives are lost because owners did not identify them than from all infectious diseases combined.
All pets should wear traditional collars with identification and rabies vaccination tags. A traditional collar, however, is not enough. These collars are often worn loosely and are easily removed. Cat collars are designed to break off if the animal is caught in a tree branch. When the traditional collar is lost, removed or breaks off, nothing is left to identify the pet unless the pet has a microchip.
Microchips are rapidly becoming a very popular method for identifying pets. Once the microchip is inserted, the pet is identified for life. Microchips are safe, unalterable and permanent identification for pets. The microchip is a tiny computer chip or transponder about the size of a grain of rice. The chip is inserted under the skin between the shoulder blades of a cat or dog, in much the same way that a vaccine is administered. The microchip is coded with a unique 10-digit code. Each microchip that is inserted contains a unique code, specific to the individual pet.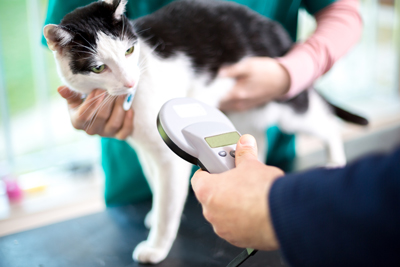 Inserting the microchip is simple and causes minimal or no discomfort. The microchip comes pre-loaded in a syringe, ready for insertion. The entire procedure takes less than 10 seconds. Post-injection reactions are very rare and the encapsulated microchip remains in place permanently.
The scanner is a hand-held device used to detect the message encoded in the microchip. The scanner is passed over the animal, paying particular attention to the area between the shoulder blades. If a microchip is present, the 10-digit number (encoded in the capsule) is read by the scanner. Scanners are provided to animal control, humane shelters and other rescue organizations so that all stray pets are scanned and those with microchips are reunited with their owners. Veterinarians can also purchase scanners for use in their hospital.
The veterinary hospital where the microchip is implanted records the pet's information and its unique microchip identification number. When a lost pet is found and scanned, the veterinary hospital is immediately contacted. Since most veterinary hospitals are not open 24 hours a day, it may take some time before you are notified. In addition to this standard registration, you can register your pet in your own name for a charge of $15-20. By doing this, as soon as your pet is found, you are notified.
Along with the additional registration fee, we recommend that you update your personal information with the microchip database on a regular basis. It is also advisable to have your veterinarian test the microchip on an annual basis in order to make sure that it is properly transmitting data.
Safe Garden for your Pets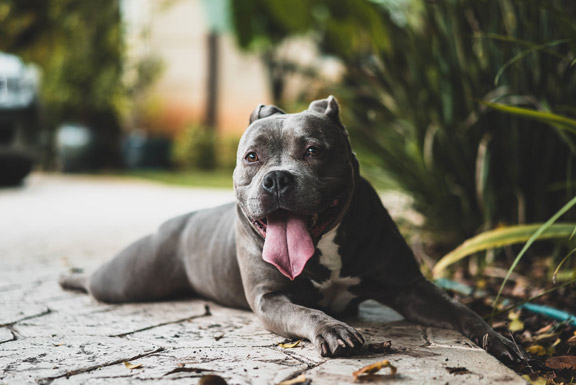 With the summer months ahead, many of us have gardening on the mind. But your green thumb doesn't have to come at Fido's expense. Here are some tips to ensure that your garden is kept pet-friendly this summer:
Avoid sweet-smelling mulch: parasites tend to thrive in mulch, and sweet-smelling cocoa mulch contains toxic ingredients if ingested by dogs and cats.
Use nontoxic plants and fertilizers: Look over the ASPCA's list of toxic and nontoxic plants in order to determine whether your plants are hazardous to Fido's health (such as the popular azaleas, Easter lilies and rhododendron). This also applies to fertilizers and any pesticides you may use.
Watch out for freshly watered lawn: Try not to let your pet walk on your lawn or garden areas after watering it. Chemicals you have applied can stick to your pet's paws, which they may proceed to lick and ingest.
Arm against fleas, ticks and heartworm:  Summer brings in the bugs, so make sure to take preventive measures against fleas, ticks and heartworm. Visit your local veterinarians for suggestions and treatments.
Watch for Allergies: With all the summer pollen in the air, watch for signs that your pets may be struggling right along with you. After taking your daily walks, wipe your animal's paws down with a towel in order to keep any unwanted pollen out of the house.
With summer fun comes summer struggles. But with these few easy tips in mind, it may make it a whole lot easier – and healthier – for both you and your pet.
7 Reasons Why Dogs Bark
We've identified seven general reasons for barking. Each generates a different kind of bark with a unique sound.
1. Barking to induce play—Dogs will stop barking as the play proceeds. If you do not play with the dog, he or she will eventually give up and stop barking.
2. Barking to discipline young—This bark generally does not persist, as one or two warnings usually stops younger animals in their tracks.
3. Barking to warn off danger—This is a deep, repeated bark. The barking will generally persist until the source of danger is removed or until the dog is able to retreat to a position of safety.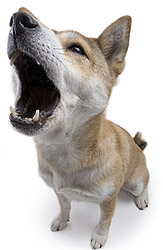 4. Barking to threaten intruders—To stop such a bark, you must either remove the intruder or remove the dog from the situation. Sometimes, stepping to the dog's side and assuring it that all is well will help reduce their fear of danger and stop the barking.
5. Curiosity barking—In general, this bark is displayed when there is some activity near a dog, but in such a place where the animal cannot have a good look. To stop the barking, all you have to do is let the dog see what it is curious about.
6. Barking for companionship—This is an incessant, repetitive bark, accompanied by a relatively motionless tail and concentration toward the area most associated with the dog's owners. The solution to this type of bark is to spend more time with the dog. This bark is often displayed by dogs who are ignored, tied out alone or locked up alone.
7. Barking for reward—Dogs can be inadvertently trained to bark and will persist with remarkable determination. Barking can become associated with almost any activity that leads to reward. For instance, a dog that barks at garbage trucks because they intrude within its territory will learn that persistent barking leads to the disappearance of the trucks. This rewards the barking behavior and thus a cycle is begun that is difficult to break. To stop this behavior, it is necessary to interrupt the natural system of reward.
Did You Know? 25 Fascinating Feline Facts
Cats might be the superstars of internet memes right now, but they have a long history of being more than cute and cuddly. Here are some fascinating facts about your favorite household furball, your cat.
• Common household pain relievers (like Tylenol or Advil), caffeine (whether coffee, tea or soda) and and raisins are poisonous to cats.
• The ancestor of all domestic cats was once believed to be the African Wild Cat, but a new study suggests that the Near Eastern Wildcat became domesticated some 5,300 years ago by farmers in China.
• In ancient Egypt, cat owners would shave off their eyebrows to show their grief after their beloved cat died.
• Cats use their whiskers to help them navigate the dark and the space around them.
• Cats can rotate their ears up to 180 degrees and move them separately.
• Today there are about 100 distinct breeds of the domestic cat.
• Isaac Newton is credited with inventing the first cat door.
• Like birds, cats have a homing ability that uses its biological clock, the angle of the sun and the earth's magnetic field.
• Hunting is not instinctive for cats. Kittens born to non-hunting mothers may never learn to hunt.
• Cats can make over 100 types of vocal sounds while dogs can only make 10.
• Cats will snack on grass to help with digestion and rid their system of any fur (those pesky furballs!).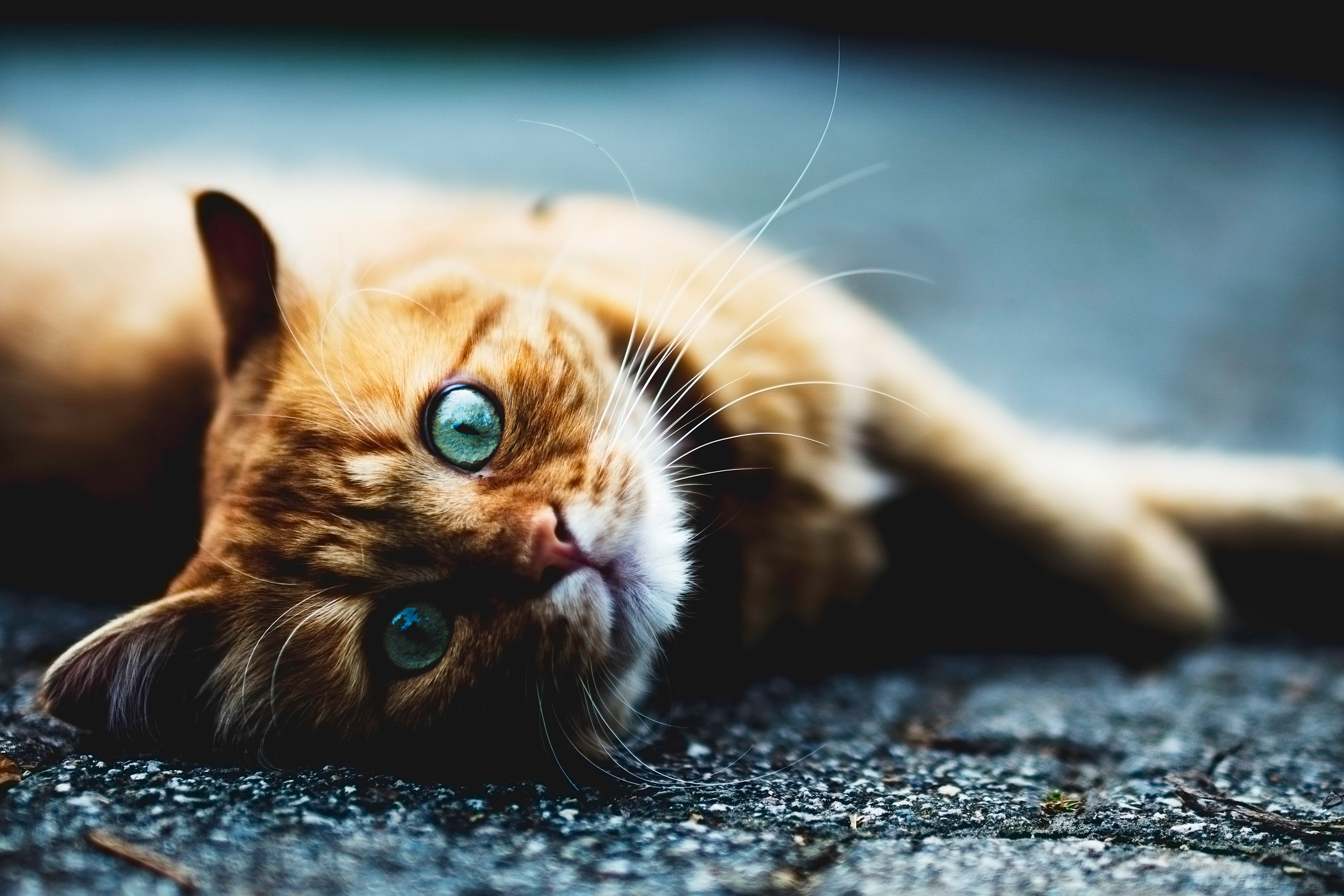 • Among other tasks, cats can be taught to use a toilet, come, sit, beg, eat with their paws, heel, jump through a hoop, play a piano, play dead, roll over, open a door, hide food in boxes, shake and fetch.
• Domestic cats spend about 70 percent of the day sleeping and another 15 percent of the day grooming.
• In Great Britain and Australia, black cats are thought to bring good luck.
• Besides smelling with their nose, cats can smell with an additional organ called the Jacobson's organ, located in the upper surface of the mouth.
• Cats can't taste sweets.
• Like person's fingerprint, the surface of a cat's nose is as unique identifier.
• Studies have shown that owning a cat can reduce the risk of stroke and heart attack by a third.
• Forbes might not have a list of the world's richest cats but there's one in particular who would definitely make the list -- An Italian heiress left her cat, Tommaso, $13 million after she passed away.
• A large majority of white cats with blue eyes are deaf. White cats with only one blue eye are deaf only in the ear closest to the blue eye. White cats with orange eyes do not have this disability.
• Cats don't have sweat glands, they sweat through the pads of their feet.
• Neutering a cat extends its life span by two or three years.
• Hard to believe, but only 11.5 percent of people consider them "cat people."
• The inventor Nikola Tesla first became fascinated in learning more about electricity after being zapped as a child by static electricity thanks to his cat, Macak."
• It might be hard to believe when they're such great couch potatoes, but house cats can run 30 miles per hour. That's faster than Olympian Usain Bolt."
Clipping Your Pet's Nails
Pet owners vary in their level of comfort in clipping the nails of their dog, cat, rabbit or bird. But it is necessary to regularly clip nails to help maintain health and comfort. Nails which are uncared for can break or tear, and can affect the animal's ability to move about comfortably or cause the animal to injure itself when scratching. If you are uncomfortable clipping the animal's nails yourself, your vet or groomer can do this for you.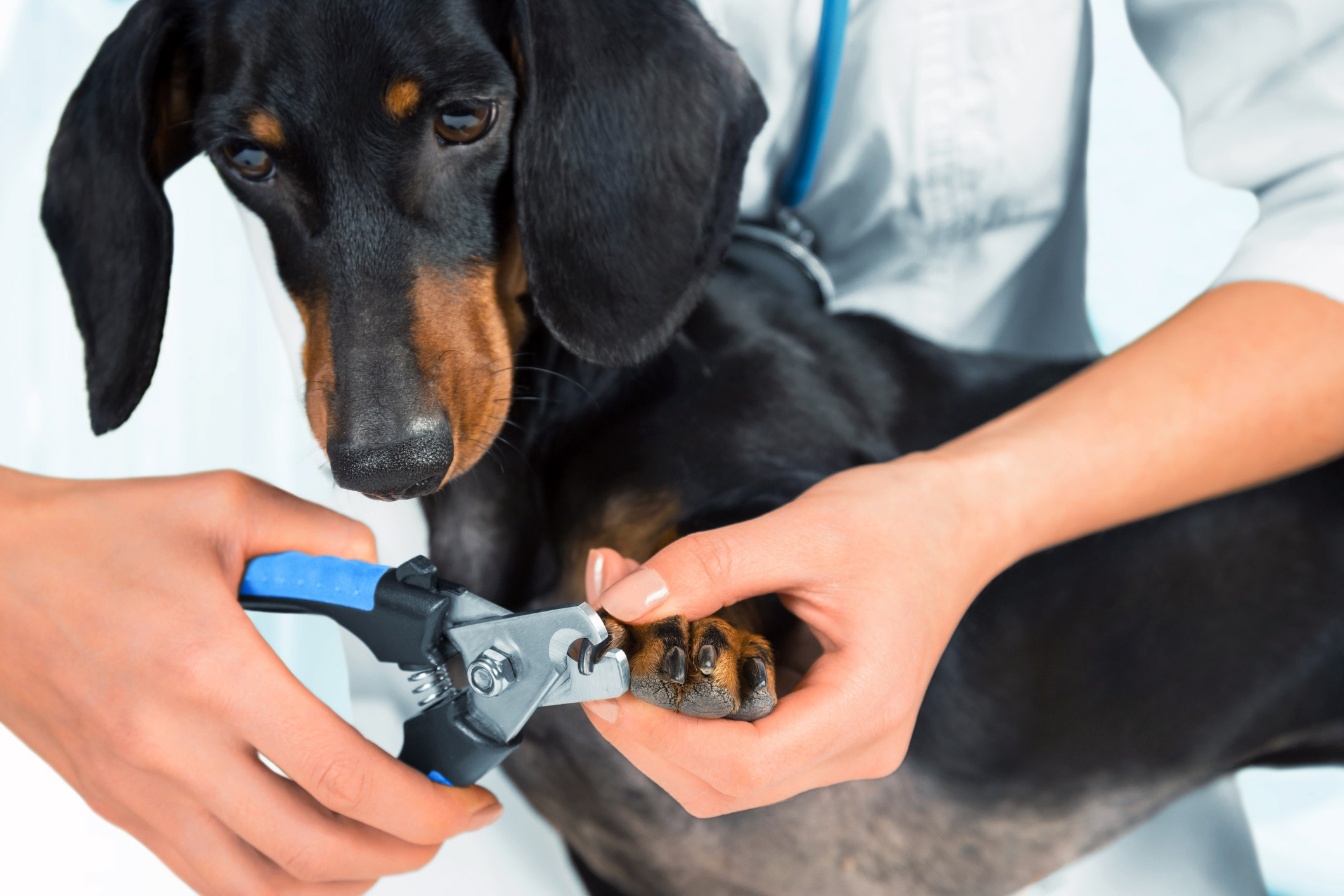 If you decide to do it yourself, here are a few tips:
• Remember, the nail is living tissue. Do not clip too close to the quick. If this occurs, the animal will experience pain and the nail will bleed.
• There are two types of nail clippers available: the scissor type (which resembles a traditional scissors) or the guillotine type (which surrounds the whole nail). Both are effective. Choose the one that is most comfortable for you and your pet.
• Many animals resist nail clipping. One way to get them accustomed to it is to handle their paws or feet from a very early age.
• Maintain your pet's nail clippers so that they're sharp. A dull blade and crush and fracture the nail, which is painful for your pet.