Pet Dental Care in Avon, CT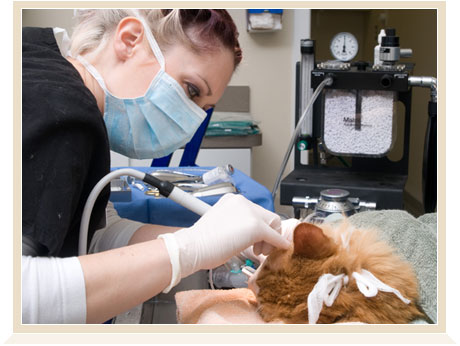 Did you know that proper dental care can add two to four years to your pet's life? Unfortunately, more than 80 percent of dogs and 70 percent of cats develop tooth and gum disease by three years of age. Pet owners frequently overlook dental disease believing diet alone is enough to protect their pets. Dental hygiene is an important part of your pet's preventive health care plan. If left untreated, dental problems can lead to larger systemic issues in your pet due to oral bacteria entering the blood stream and damaging the kidneys, heart, and liver.
Dental disease and its serious consequences can be avoided by bringing your pet to your veterinarian for regular dental check-ups and teeth cleanings.
Progressive Animal Wellness provides pets with a wide range of dental services from complete cleanings using our state-of-the-art ultrasonic scaler and polisher to digital dental X-rays that instantly provide highly detailed images and reveal a view of your pet's teeth and jaw below the gum line. Our digital dental X-ray minimizes the length of time animals are under anesthesia, reducing cost for you and stress on your pets.
Should we find an issue with your pet's teeth we will discuss treatment options with you. We perform a wide range of dental and oral surgery procedures utilizing equipment that might make your own dentist envious. Further, because we believe pain management is an important piece of any procedure, we use local and regional nerve blocks prior to oral surgery and we use advanced bone matrix paste and doxirobe antibiotic gel as needed to promote healing. For complicated procedures like endodontics, maxillectomies, and prostheses, we refer our clients to board certified dental specialists.

Home Dental Care
Dental care does not end with a visit to your veterinarian. You need to continue your veterinarian's good work at home with a dental care regimen. In addition, our staff can show you the proper method of brushing your pet's teeth as well as help you select from a wide range of dental products. By learning the right methods, home dental care can become easy enough to do regularly and become an enjoyable experience for both you and your pet.
It is important to know and recognize the signs and symptoms of dental problems, which include:
Bad breath—one of the first signs of dental disease
A yellowish-brown crust of plaque on the teeth near the gum line
Red or swollen gums
Pain or bleeding when your pet eats or when the mouth or gums are touched
Decreased appetite or difficulty eating
Loose or missing teeth