Staff
Jennifer, wife of owner Corey Shagensky, has been the business manager at Progressive Animal Wellness (PAW) since its start in 2011. While relatively new to the veterinary field, animals have always been a part of Jennifer's life, both as pets and a part of nature. Prior to the birth of their two children, Jennifer was an environmental educator. In teaching field trips, she helped instill children with a sense of wonder with the natural world and the innate value of both animals and plants.
Additionally, Jennifer has a Bachelor's of Science in Biology from Bates College and a Master of Science in Horticulture from Cornell University. After graduating college, she worked in the infectious disease unit at Massachusetts General Hospital, starting as a technician and working her way up to lab manager. She also was a research assistant studying developmental biology at Brown University in the Department of Molecular Biology, Cell Biology and Biochemistry.
Jennifer adds that she looks forward to helping her husband realize his dream of running his own veterinary clinic and seeing more animals and their owners in her everyday life.
When she has a moment to spare from the joys and duties of motherhood, she enjoys the outdoors, reading, yoga, swimming, gardening, and spending time with friends and family. She lives in West Hartford with Dr. Shagensky, their two children, and Gertie the wonder dog.
Lead technician Kathy joined the Progressive Animal Wellness team in January 2015 as an intern from Northwestern Connecticut Community College veterinary technology program. Kathy had an interest in animals from a young age that led her to pursue a career in marine biology following high school.
Kathy graduated from Southampton College of Long Island University in 2008 with a Bachelor of Science in Psychology. While attending college Kathy participated in multiple marine animal care internships. After graduating she spent a couple years as a research assistant for Long Marine Lab in Santa Cruz, California, where she studied marine mammal cognition and sensory systems. In 2010 Kathy attended St. Andrews University in St. Andrews, Scotland where she received a Master of Research in Marine Mammal Science. Soon after Kathy received a position as a marine mammal stranding technician and education coordinator at the Riverhead Foundation for Marine Research and Preservation in Riverhead, New York, where she discovered her passion for veterinary science and decided to go back to school to become a certified Veterinary Technician. She completed Northwestern Connecticut Community College's veterinary technician program and in July 2015 passed the Veterinary Technician National Examination and became a certified veterinary technician.
When Kathy is not busy at PAW she spends her time with her friends and family and her calico cat, Calista.
Danielle H. joined the Progressive Animal Wellness team in May 2015. After high school Danielle was torn between veterinary medicine and culinary arts. After going to the Culinary Institute of America, Danielle made the decision to switch to her true passion, veterinary medicine.
Danielle started in the veterinary field in 2014 before she began school to become a certified veterinary technician. Danielle graduated from the veterinary technician program at Northwestern Connecticut Community College in May 2016 and became a certified veterinary technician in August 2016. Danielle would like to specialize in surgery as well as continuing her education in the veterinary field.
She enjoys being outdoors, hiking, fishing, kayaking and camping. Danielle also has kept her passion for cooking, baking and has recently found a knack for pottery. Danielle resides in Canton with her boyfriend and their two cats, Peter and Phil.
Danielle E. happily joined the PAW team in June 2015. She holds a Bachelor of Science degrees in Respiratory Care and Veterinary Technology from Quinnipiac University. After a 12 year career in human medicine as a Respiratory Therapist at Yale New Haven Hospital, she found her true passion in working with animals. Since becoming a veterinary technician in 2003, she has had some wonderful experiences working with small animals, exotic pets, reptiles, birds and some wildlife. She has even volunteered with a wildlife rehabilitation group.
She currently resides in Torrington with her Daughter Emma. She shares custody of Dutch, a German shorthaired pointer and Callie the cat. Danielle enjoys biking, gardening and spending time with friends and family.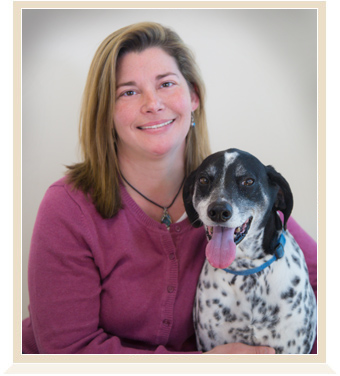 Amy joined the PAW team in July 2017. Amy's passion for animal emerged early. She started her amateur career at a young age as the neighborhood pet sitter, caring for the neighborhood dogs, cats, guinea pig and even chickens.
Although Amy studied mathematics at UVM and UConn, her love of animals drove her to pursue a career in the veterinary field. In 2003, Amy turned her first amateur career professional working as an assistant in a clinic in Western MA.
When life brought her back to Connecticut, she found PAW to be the right fit geographically and professionally. Amy now resides in Torrington with her husband and their 3 dogs – Charlie, Lola and Maggie and one kitty named Linus.
Outside of work Amy enjoys live music, canoeing and travel.
Bernadette joined PAW in September 2018 with more experience in the veterinary interest than anyone else on the team. She has been in the vet industry for over 30 years. After brief career as a social worker she realized working with animals was the only path for her to have a truly rewarding and happy life. As a receptionist she has found her niche. She is able to put her natural empathy and the active listening skills learned while getting her Bachelor's of Science in Social Work from Southern Connecticut State University to good use helping clients.
Outside of work, Bernadette enjoys spending time with friend and family, especially her husband David of 31 years and their 4 legged-child, Brady, a 12-year-old Shih Tzu. Other interests include gardening and making basil pesto, nature, baking, and trips to the beach and National Parks.
After high school graduation, Michelle knew she wanted a rewarding, challenging career that involved helping people. Michelle decided to explore veterinary medicine and completed the Veterinary Assistant Certificate from Middlesex Community College in 2012. In the process, she also registered for human medicine classes to explore her other interest in becoming a pediatric nurse. Her love and passion for animals won out and she chose to continue her education in the veterinary field. She graduated from Middlesex Community College with an Associates of Science in Veterinary Technology, and passed the national exam to become a Certified Veterinary Technician. Michelle interned at Kensington Bird and Animal Hospital and Advanced Veterinary Care in Farmington, where she gained experience in both general practice and emergency practice settings with small and exotic animals. Michelle has also volunteered her time at the Meriden Humane Society, and Newington Humane Society. Michelle would like to one day specialize in dermatology or animal behavior.
When outside of work, Michelle's life consists of spending time with family and friends, some kind of soccer-related or outdoor activity, watching the Patriots play, trying new foods and traveling to new places. Michelle has had many pets in her life (fish, rabbit, hamster, ball python, dogs). At this time, she shares joint custody of her Yorkie, Noel, with her mother.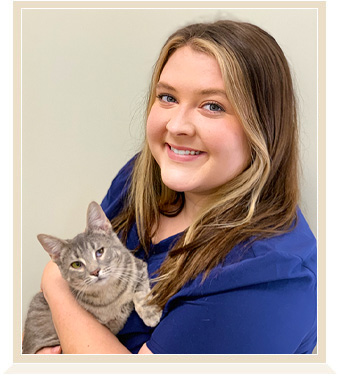 From a very young age it was clear that Ashley-Rose was destined to work with animals. She spent her afternoons knocking on her neighbors doors, pestering them to let her walk their dogs. Instead of checking out picture books from the library she would check out encyclopedias on dog breeds or animal care. In school, biology, environmental studies, and animal science were always her favorite subjects.
In her professional life Ashley-Rose spent many years in the restaurant industry, only to find herself always seeking out side jobs and part time work with animals. Over the years she has spent time as a dog walker, kennel attendant, pet sitter, and pet owner. After realizing that working with animals was her true passion, she took a leap of faith and started her own pet sitting business. It was an amazing, fulfilling experience but she has always been eager to further her knowledge and skill set when it comes to animal care. While she will always love working one on one with animals in their own home, she decided to pursue a career in the veterinary field and is thrilled to have joined the PAW team as a veterinary assistant.
Ashley-Rose recently took up residence in a little cabin on the Farmington River in East Granby where she is excited to spend her days hiking, swimming, and relaxing in the sun. In her spare time, she volunteers for a local animal rescue and spends as much time as possible with her own little "zoo" of rescue animals.
Jennifer's bio coming soon!
Sam joined PAW in the spring of 2021. Animals have been a passion of hers for as long as she can remember. She started by owning hamsters and guinea pigs. As a teenager, she was able to start shadowing local veterinarians and eventually became a veterinary assistant in 2019. A recent graduate of the University of New Hampshire with a bachelor's degree in biomedical science: pre-veterinary medicine, she hopes to continue her career working with animals by applying to veterinary school in the near future. Her goal is to one day be an amazing exotic animal veterinarian, is feels PAW will help her to grow into that role.
She currently resides in Canton, helping to care for her grandmother and many furry rodents. She shares custody of two lovable mini poodles with her mother. In her spare time, she enjoys playing tennis and doing mini home projects such as redecorating.
Danielle G. joined the PAW team as a receptionist in 2019. Her love of animals developed at an early age, when in elementary school, her family adopted a Pit Bull mix named Guiness. Danielle has been working with animals since 2005, and thoroughly enjoys being a part of ensuring that all pets live their healthiest lives.
Outside of work, Danielle enjoys reading, riding her motorcycle, and spending time with her son, and dog, Diamond, a Pit Bull mix whom she affectionately refers to as Chubs.
Morgan joined Progressive Animal Wellness in August of 2020 after graduating from Northwestern CT Community College. While studying at NWCC Morgan completed an externship here at PAW and knew that this is where she wanted to start her career in the vet field! Post-grad, she passed her boards and is now a certified veterinary technician. Morgan has always had a love for animals. Throughout high school and college she was an equestrian, and growing up she was surrounded by family pets and other animals. It was inevitable that one day she'd wind up working with them!
These days Morgan still loves animals large and small. She adopted a black cat named Henri and they spend their summer nights sitting out on her back porch watching the sunset. Outside of work Morgan enjoys arts and crafts, going out with her friends, traveling any chance she gets, and spending time with her family on their boat in Mystic, CT.
Marjorie happily joined the PAW family in 2019. She has loved working with animals her entire life. She has been a veterinary technician for over 20 years and has a broad background in veterinary medicine. She spent the first 16 years of her career working with reptiles, pocket pets, birds, and small mammals which she greatly enjoyed and still holds a soft spot in her heart. She has also worked in both emergency medicine as well as general practice hospitals. She was even an animal control officer in her hometown.
When she is not at work, she enjoys spending time with her husband, family, and of course her own four-legged furry kids at home.